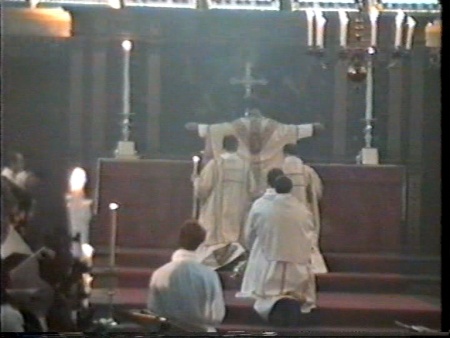 The version of the Roman Rite used in southern and central England before the Reformation, the '
Sarum (ie Salisbury) Use
' (there was also a 'York Use' and others), was celebrated in the late 1990s in Keble College Chapel by
Fr Sean Finnegan
, then of the Oxford Oratory, now of the diocese of Arundel and Brighton. Shawn Tribe has posted some pictures and commentary on his blog; for his full post see
here
.
Here is a picure of the the celebrant saying part of the canon with his arms outstreched, a feature of the Sarum Use which it has in common with the ancient rites of Braga and Milan.
A section of this Mass can be seen as a YouTube video, as can part of an Ambrosian Rite Mass (the ancient Rite proper to the Archdiocese of Milan); see the New Liturgical Movement blog,
here.
Hat-tip to Shawn Tribe!