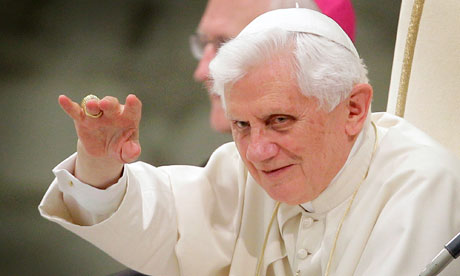 The Holy Father is 85, and as time passes so he gets older. There's been a fair amount of chatter about his pontificate slowing down and the like; liberals are beginning to look forward to the next papacy. This is dangerous talk if it means that people stop paying attention to projects close to Pope Benedict's heart, because he won't be around to reward or reprimand them for doing anything or nothing about them, or if they think they can defy him in the hope that by the time the wheels of justice grind into action we'll be into a new pontificate.
But it doesn't appear to be true. He may look a little frail but look at these three important documents
just from November:
the
Motu Proprio
Lingua Latina:
a brilliant rearticulation of the reason why Latin is not just important for the Church, but indispensible: not just for the liturgy.
The
address to the St Cecelia Association
on Sacred Music: a brilliant refutation of the argument that the use of chant and sacred polyphony in the liturgy undermines 'active participation'.
The
Motu Proprio 'Intima Ecclesiae natura'
, on Catholic charitable works: a firm reassertion of the necessary Catholic identity of charities using the name 'Catholic'.
These are not just reflections, each of them are calls for action, and in the first and third case
s
they are legislative acts which must have taken serious preparation, and will have concrete consequences.
Everyone please note: Pope Benedict is not about to disappear. And bearing in mind his mortality, the only prudent, healthy and Catholic attitude is to work on the basis that his successor won't suddenly throw everything in the air. The Holy Father's initatives are bearing fruit in all sorts of ways, and any remotely plausible successor is going to want to develop them further, not call a halt. What Pope is going to tell us to forget about Gregorian Chant? Or say that Catholic charities can break the Natural Law? Or rubbish our liturgical patrimony?
I hope Pope Benedict has a very long reign. But I'm not frightened of the next Pope. We aren't going to get some 1970s liberal. Anyone with eyes to see can perceive that Pope Benedict is moving exactly with the times: he has facilitated and channeled an inevitable and necessary realignment in the Church. The Benedictine revolution is here to stay.