No one seems to know much about the man. As for his views on the liturgy, the traditional Mass scene is not well developed in Argentina.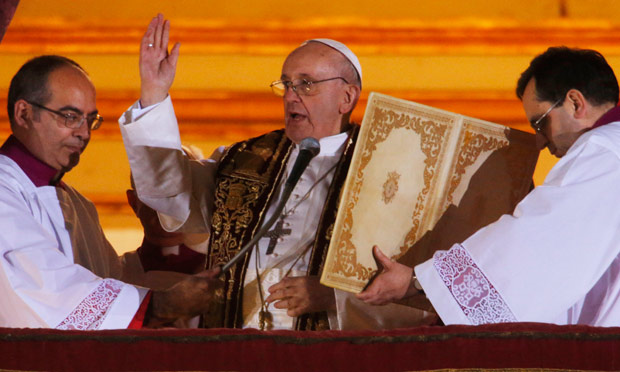 The BBC, who don't seem to have been able to find a translator familiar with the Our Father, spoke volumes with the comment: 'A theological conservative, but strong on social justice.' BUT? What do you mean, 'but'?
Pope Francis' idea of social justice may not be exactly what liberal Europeans expect, since it does not arbitrarily exclude the unborn, or children denied parents of both sexes.
This may, in fact (speaking from complete ignorance) be the reasoning in the conclave. Who can best defend the Church's teachings on sexuality and life? Perhaps someone with impeccable credentials as a defender of the poor, someone of genuine personal humility.
It is obvious that attacks on the Church, especially by governments, on the issue of sexuality are going to be a major concern in the coming years. If Pope Francis is the man for that job, then he'd have got my vote too. In any event, he needs and deserves our support for this humanly impossible task.
There's little indication that he has a great interest in the liturgy. Surprising as that might seem, I'm quite happy with that. This isn't the moment for the Pope to be getting stuck into liturgical minutiae. Let's leave the whole issue alone for a few years, as long as the legislation we have continues to be applied. And Latin American prelates like to be obeyed.