I have been hearing about the early Masses in St Peter's and this morning I got up early to see them. If you get to the front of St Peter's before 7am, you see the great iron gates swing back and you (and, at least today, a crowd of others) can swarm in.
In the following minutes priests start pouring out of the sacristy to say private Masses at side altars. Some go into the crypt, some to the altars of the upper basilica; some are saying Masses for groups of visitors, some are simply saying a private Mass. There were priests saying Masses in various languages, some for quite large congregations, singing; others were saying the Traditional Mass.
We followed one group into the crypt, which I have never seen before. It is an odd mixture of beautiful old chapels and ... modern ones.
I'd be interested to know what this fresco, in the crypt, depicts; it appears to show someone threatening suicide surrounded by people in turbans, with the eager encouragement of a devil.
We ended up back in the upper Basilica and (looking out for the tell-tale altar cards) found at least two Traditional Masses being said; the one we actually attended was at the altar over the tomb of Bl Innocent XI, and under an immense fresco of the Transfiguration. (The other was in the chapel of St Pius X.)
I have no idea who the celebrant was, but he ended up with a congregation of four. Sadly, neither he nor the other priest celebrating the EF had a server; if I'd been there when he arrived, I would have volunteered myself.
(Someone with greater knowledge than I have can perhaps explain why the priests saying the OF were in red today and those saying the EF were in green; the Universal calendar on my IPhone would, if anything, suggest they'd be the other way round.)
Flushed with our success we then had breakfast at the maddest restaurant in Rome: Babingtons, to be found for more than a century at the foot of the Spanish Steps, which serves English food. Yup, scones and clotted cream, 'Full English Breakfast', a wide range of teas... I had an extremely good Eggs Benedict, in honour of the Holy Father. I did, however, resist the temptation to photograph it.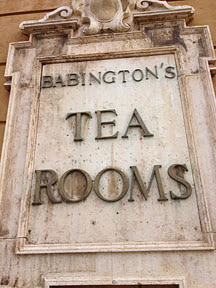 - Posted using BlogPress from my iPhone