The second aftrnoon of the FIUV conference is an 'Open Forum', taken up with talks. I think I can best blog about this when the talks become available on-line, which is planned. We heard from representatives of the Fraternity of St Peter, the Institute of Christ the King, the Institute of the Good Shepherd, and the head of the Institute of Sacred Music.
After the end of the Conference, on Monday morning, we had a private Mass in the modern chapel of the hotel.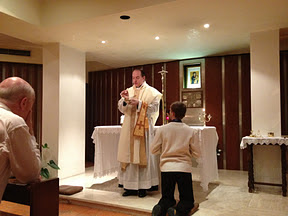 And I have been busy! First, with two members of the Guild of St Clare, the LMS' guild of needlecraft, I visited Lisio, a fabulous source of liturgical fabric. They have supplied fabrics for use by the Holy Father himself, and have wonderful things, many based on motifs from Renaissance art.
Their stuff ranges all the way from 'very expensive' bracket to the, well, mind-bogglingly expensive. But these fabrics can be used in many ways, in panels and as trims, and in the right context this could be a very useful source.
- Posted using BlogPress from my iPhone